Overview
Data Sources
Adding New Data Sources
Data Streams
Creating New Streams
Lookup Tables
Overview
To stream data either from a web site source or to upload a file from your local drive, select Streams from the Navigation panel. In addition, you can add Lookup Tables to transform and filter data without having to create new streams.
To display:
Stream queries associated with a source, highlight the source in the Sources+ panel.
Lookup tables, scroll to the end of the Sources+ panel and click the Lookup Table button.
Data Sources
The data sources are displayed in the Sources + panel.
To view a stream's data source, select the data source in the Sources + panel, click the More icon > View.
To rename or delete a source, click the More icon select [Rename/Delete].
To display a source's stream queries, select it, the streams are displayed in the Streams panel.
Adding New Data Sources
In the Streams page, click Sources+ to display the Source Types page.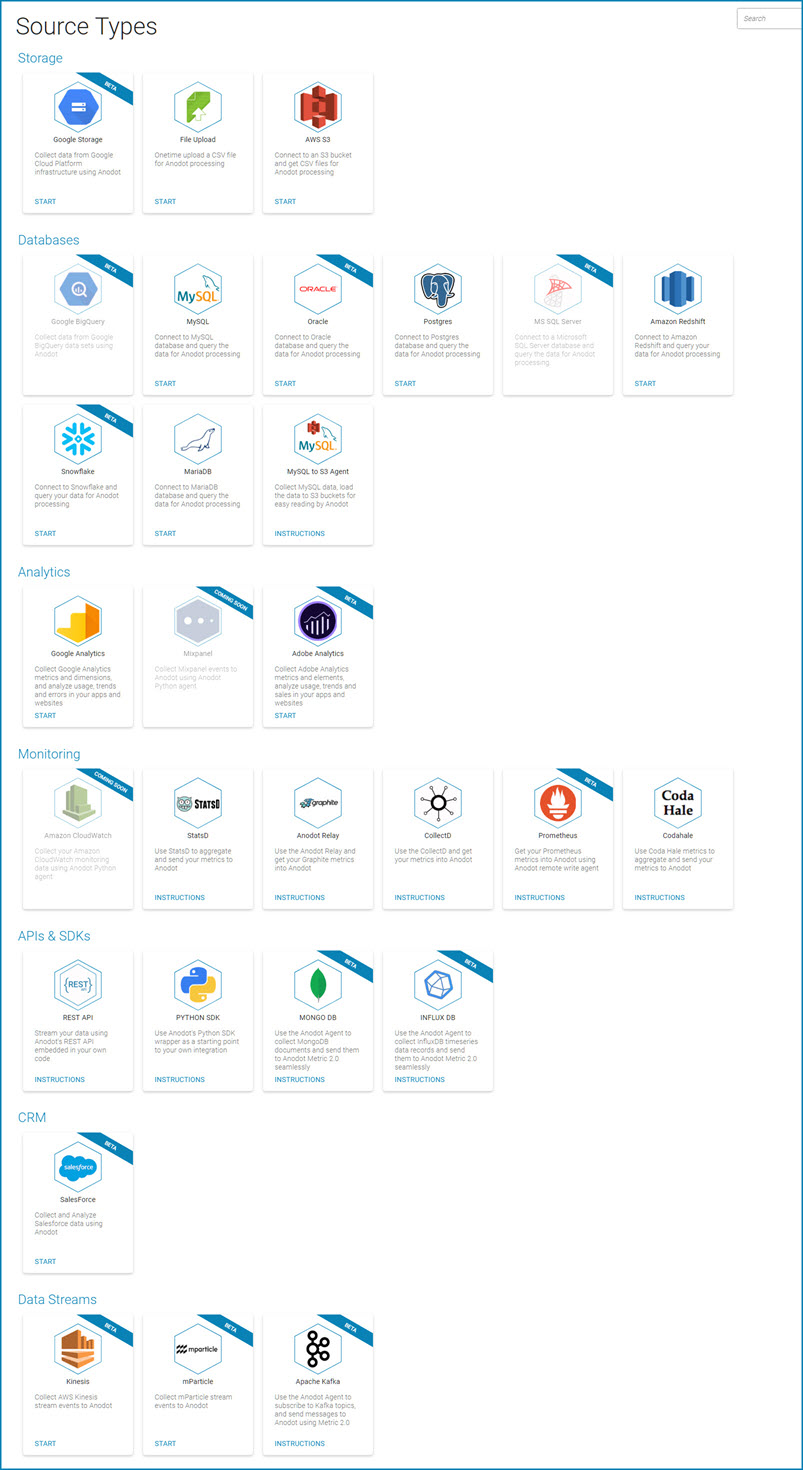 2. Select a data source. Click:
- Start and follow the on-screen instructions.
- Instructions to open the relevant Knowledge Base instruction page.
Note If you do not see your data source, use Search.
Data Streams
The current status of stream queries are shown in the Streams + panel. To view, change the status or edit the query, highlight the stream query you want to change and click the More icon.
Queries status may be changed as follows:
Status
Description

Click to:

Live
Historical data gathered or live data being gathered

View the Stream Summary
Edit
Pause the data stream
Duplicate the data stream
Delete the data stream

In Progress
Gathering historical data, that has not reached the present date
Paused
A Live or Initialized data stream was paused by a user

Incomplete
The Stream definition has not been completed
Completed
For Uploaded files only - streaming completed
Error
The stream is in an error state

Hover over the icon to
display a description of
the error
More>Resume, to
resume streaming
[1] Renaming a Stream
Changes the stream reference to the metrics created from that stream.
In Alerts/Composites/Anoboards/Dashboards, if the stream name is used:
a/ Without wildcards in an alert expression, it will be replaced in the expression automatically.
b/ With wildcards, the expression will not be changed automatically and you will need to change it manually.
Creating Stream Queries
Each source can hold several stream queries. To create new queries:
Define a Stream Query per the requirements of the data source:
Review the data in the Stream Table before processing it to Anodot.
Note: To create more meaningful metrics, you can transform and filter the measures and dimensions from the data collectors before streaming the data.
See Stream Tables Measure Columns and Dimension Columns
Lookup Tables
To upload and apply transformers and filters using Lookup Tables, see Lookup Tables.