The Alerts Management page displays a number of important details about your alerts, including notifications of errors, ownership, and the current status of an alert. In addition, there are a number of actions you can perform on the listed alerts, including the following:

Notes
To change the sort order of any of the alert parameters [Title/Notification/ Owner/
Date Modified/Status/triggered], hover over the parameter heading.
To view the severity of an alert, hover over the color-code bar next to the alert title.
To view the notification details, hover over the warning icon:

A

Red

triangle

indicates that the search result is empty - either there is no data or it is invalid

An

Orange triangle

indicates that the composite delay has been changed.
View Additional Alert Information
To display more information about a specific alert, click the alert row. Choose the information you want to see:
Summary for the high-level details of the alert.
Alert Console to link to the Alerts Console See Alerts Console
Details for a full alert report.

Filtering Alerts
To show or hide the Filters panel, click the Filters button. Alerts can be filtered using any combination of the following parameters: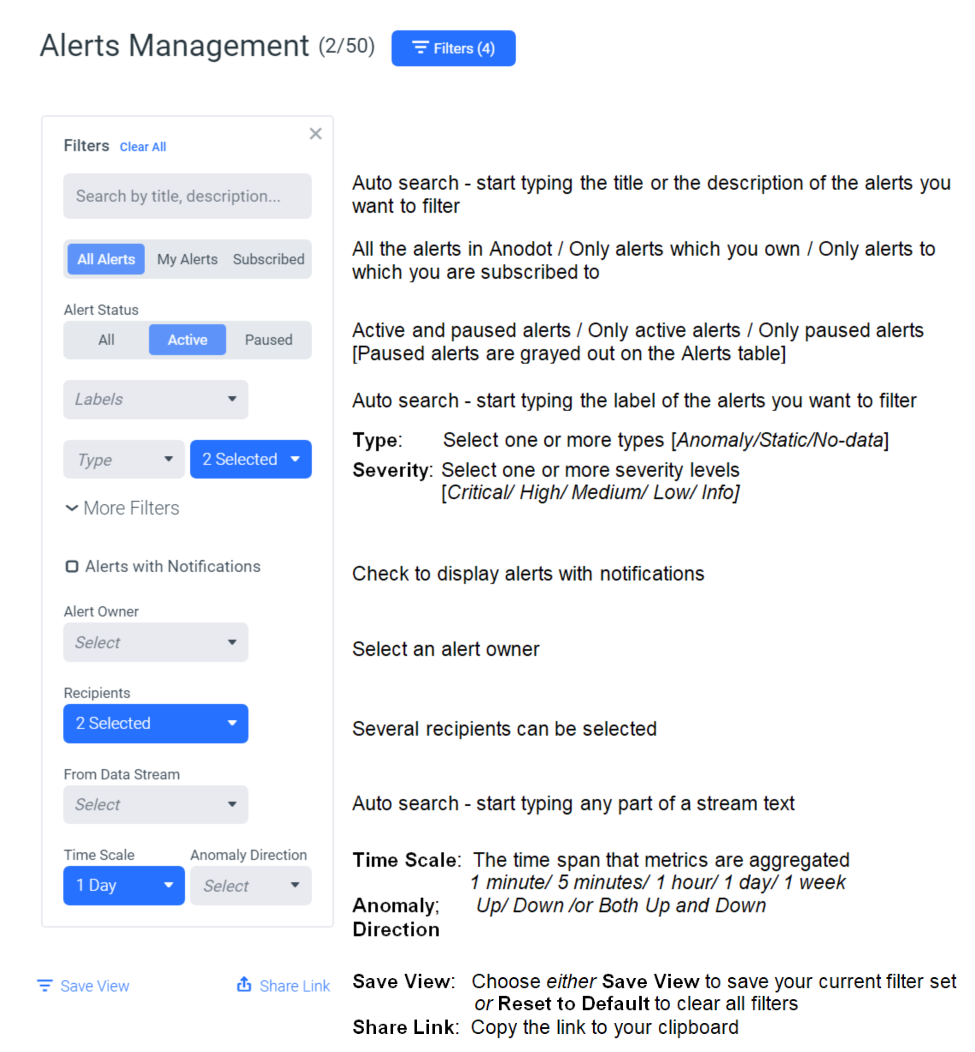 To View the Filters Applied
To display a summary of the filters selected, hover over the Filters button.

Note
(43/50) The total number of alerts meeting the selected criteria
(4) The number of filters applied
Editing Alerts
To edit an alert
1. Hover over the alert to display the Edit toolbar.


2. Click the relevant icon to:
Edit an alert [Alert owners and Admin users only]. See Creating and Tuning Alerts.
Subscribe/ Unsubscribe to alerts
Pause /Resume Alerts. Alerts can be paused for

An hour
A day
A week
Indefinitely

Duplicate - a copy of the alert is automatically created.
Delete alerts [Alert owners and Admin users only]
3. Click Save to return to the Alerts Management page.
Bulk Editing
To add recipients, pause/resume alerts and labels to more than one alert at a time, use bulk editing.
1. Choose the alerts you want to bulk edit.
Either select individual alerts - scroll and check the checkbox
Or to globally edit all the alerts - check the Title checkbox. All the alerts are automatically selected.


2. Choose:
Recipients to add recipients
Pause to pause for a chosen interval
Labels to search and add labels
More to resume paused alerts or assign an owner (described in the following section)
Assigning Alert Owners
To assign your alerts to another owner (a user or group):
Choose the alert(s) to which you want to assign a new owner. Note that you can select any number of alerts that you own.
Click the More button on the Bulk Editing toolbar, and in the displayed popup menu, click Assign Owner.
In the displayed list of users and groups, select an owner and click Apply.