Viewing Alert Details 
Editing Alerts 
Adding Variables in Alert Titles and Descriptions
VIEWING ALERT DETAILS
From the main Navigation panel, click Alerts. The All Alerts page is displayed.

To filter Alerts by name, in the Filter by text box, type all or part of an Alert title. As you type, the list autocompletes.
Select which Alerts you want to see [All/ My Alerts/ My subscription]
Select Filter by Owner, to see Alerts created by a specific owner.
Alerts are displayed by:
• Title
• Type
• Severity
• Status
• Error:
  Empty search result: invalid or no data
  Alert is partially functional, the composite delay has changed
Note: Each column can be sorted in ascending or descending order – the Title column in alphabetical order and the other columns by group.
Sorting by the Errors column will sort by the different error types.
Click anywhere in an Alert row, to open the alert management panel. The panel shows the date the alert was created, modified, error messages and all settings and conditions. 

All users and alert owners can:
 View alerts
 Subscribe or unsubscribe to an alert
 Pause or resume an alert
 Duplicate alerts
Only Alert owners have the option to:
Edit alerts 
Delete alerts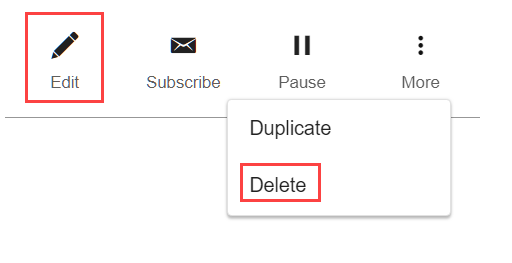 EDITING ALERTS
Note: Only owners of alerts or admin users can edit, unsubscribe, duplicate, delete and transfer ownership of Alerts. Other users can view, subscribe, duplicate and pause alerts.
Select an alert. The alert management panel opens.


Click the Edit icon. The Alert detail page opens.


Edit any of the parameters and click Save to return to the Alerts management panel.

To subscribe/unsubscribe to the alert, click Envelope icon.
To pause or resume receiving the Alert, click Pause or Resume icons. An Alert can be paused for an hour/a day/a week/indefinitely.
Note: You can change the status of the Alert both from the Alert Management Panel and in the Edit window in the Info panel.


To create a copy of the alert, click More and select Duplicate in the menu. A copy of the alert is automatically create with '-copy' added to the end of the original alert name. Edit the copy as necessary.
To delete the alert, click More and select Delete.
ADDING VARIABLES IN ALERT TITLES AND DESCRIPTIONS
Dynamic variables can be added in alert names or descriptions. Your alert notifications will be pushed based on the user-defined variables.
To add dynamic variables
Open the New or Edit Alert window.
In the Info section either in the Title field or the Description field, add a property name as part of the alert title or description. 
For example to add the propertyName Country to the Description:

Note
In the case the alert is pushed for one Country, Anodot will replace this value with the actual name of the country in the alert notification.
In the case of 2 values, such as the one below, New Users by visitor type, Anodot will replace the User_Type and New_Visitors in the alert notification.

In the case of 3 values or more, Anodot will replace each of the variables accordingly in the alert notification.