Alerts are notifications of metric events triggered by anomalies, no data, or deviations from a static value.
Alert triggers are defined by users based on settings for target metrics, Significance, duration, minimum Delta, Time Scale metrics, upper and lower static value thresholds, and duration of no data.
Alert notifications are sent to recipients grouped according to distribution channels:
Email – Recipients identified by an email address.
Webhook – Recipients identified by a URL. A Webhook is a simple event notification service via HTTP POST. When the alert is triggered, the service sends the alert payload to the specified URL.
Slack – Recipients identified by WebHook URL created using Slack custom integration.
PagerDuty - Recipients identified by PagerDuty service name and key.
JIRA - Recipients identified by Jira user email.
Opsgenie - Recipients identified by name, Opsdenie instance and integration API key.
Users – Recipients defined as users in host app.
Instances identify individual recipients within a notification channel.
CREATING AND TUNING ALERTS
T
In this tutorial you will learn how to create a new alert. 
From the main Navigation panel, click Alerts > New, to open the New Alerts window.
Recipients identified by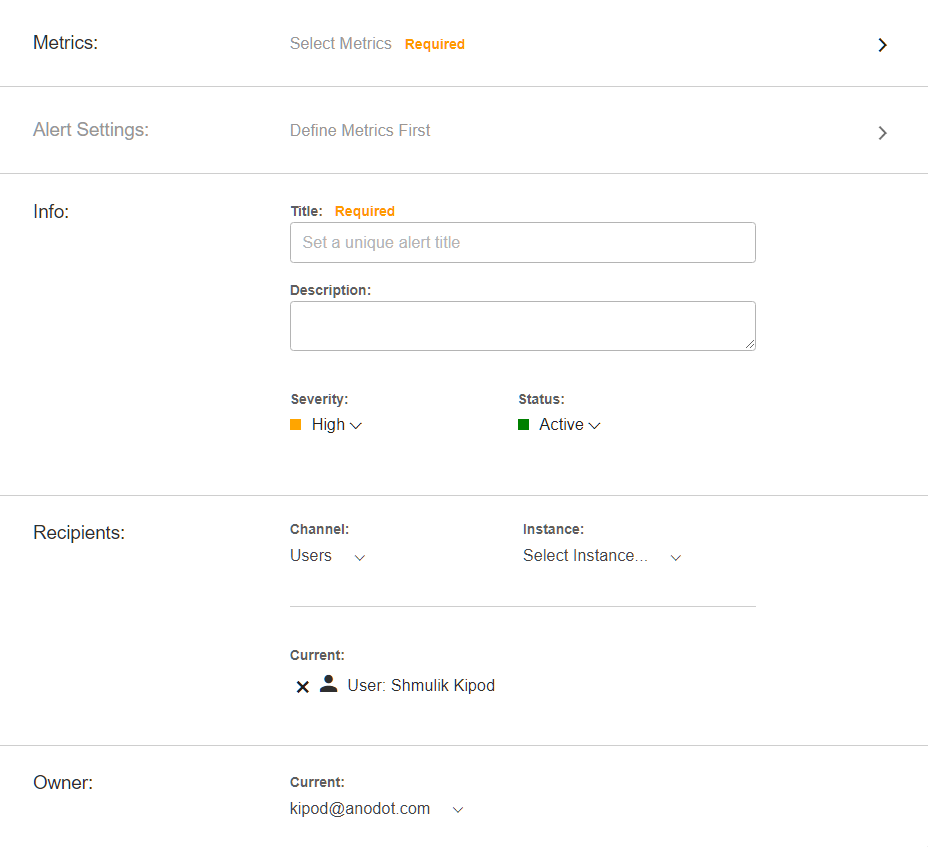 Then:
Define the metrics; see: 
Set the Alert Settings; see: 
Set a unique title, a description, the severity and status
Set the channels and users
Change ownership [Admin and Alert owners only]