This article describes how to sort and filter Anomalies:
Sorting Anomalies
Anomaps and Anomalies can be sorted in the main Anomalies window using the following three methods:
Time Range - This defines the time period for all Anomaps and Anomaly charts. To select a Time Range, open the Time Range menu from the Anomap/Anomalies taskbar.
Note: Time Range is not adjustable at the individual chart level.


Sort - From the Sort menu in the Anomalies menubar, select from:

Start date
Score
Absolute delta



Descending / Ascending - From the Desc / Asc menu in the Anomalies menubar, select the relevant option to display.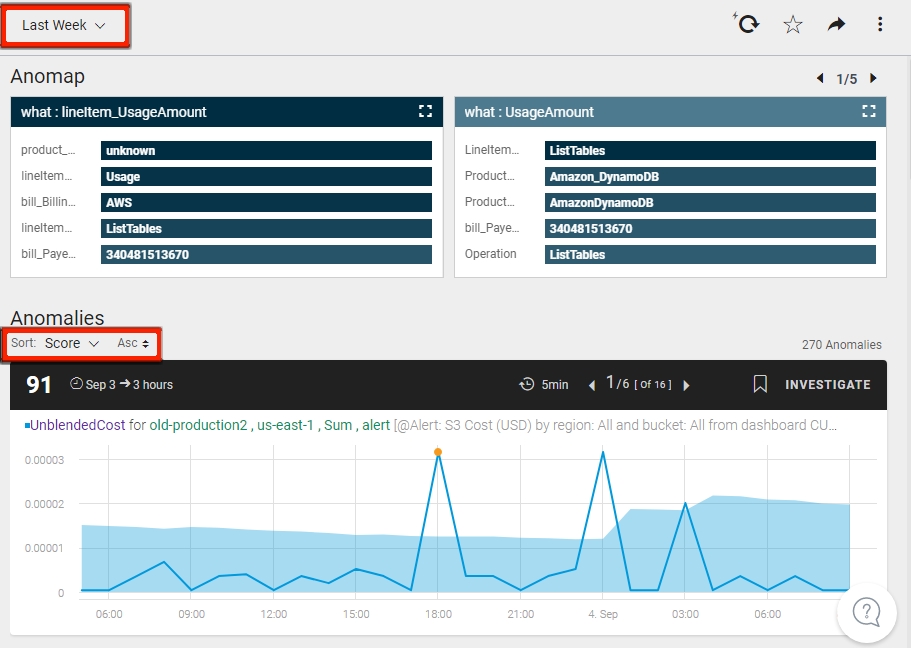 Filtering Anomalies
Anomalies and Anomaps can be filtered by:
Filtering by Tags, Origin, and Properties & Values of Metric Expressions
Tags - Type any property/value pair added to a metric or metric set name
Origin - Type:
@stream to filter by streams
@composite to filter by composite metrics
@alert to filter by alerts
Properties and values of metric expression - See Metric Expressions
Filtering by Score
Set level of an anomaly - from 0 to 100
Filtering by Minimum Duration
From 0 to 100 in minutes, hours, or days, up to the limit of the chart time period.
Filtering by Minimum Delta
Select from the following options:
Absolute Delta: Difference between the peak value of the metric during an anomaly from the normal range
Percent Delta (%): The percent of change from the normal range to the peak value of an anomaly.
When setting a value in the Min Delta filter, only anomalies with higher absolute or percentage deltas are displayed in the Anoboard.
Filtering by Status
Open (ongoing, having not returned to normal range)
All anomalies
Filtering by Direction
Orientation from normal range
Up (higher) and/or Down (lower)
Filtering by Time Scale
1 minute
5 minutes
1 hour
1 day
1 week
Filtering by Anomaly Type
All
Transient - a transient spike in the normal range pattern
Pattern Change - a change in the normal behavior of the range pattern
Filtering by Bookmarked Anomalies
Mine - Anomalies bookmarked by me
Other's - Anomalies bookmarked by other's
None - Anomalies with no bookmarks
All Bookmarked - Anomalies with bookmarks
All Anomalies - Ignore bookmarks when filters
Filtering by Correlated Events
Select to Show/Hide.
Notes:
Filters automatically take effect. The results are displayed in the Anomaps and Anomalies charts.
Select Save, to save the existing Anomalies tile with the new filters.
Select Save As to create a new Anomalies tile based on the new filters. A Save dialog box is displayed. enter a name and delete or add tags.