TO CREATE A CHART TILE
 Open a Dashboard.
 Click Add. Select Chart from the drop-down menu. A blank tile is added to the page.
 To name the tile, hover over the tile and click the Settings icon .
 Select Settings.

 In the Chart Settings dialog box:
 - Enter a Chart name
 - [optional] Enter a web link. Converts the Chart name to a hyperlink to the specified link.
 - Click Save
Note: To set a custom time range see Setting a Custom Time Range per Chart or Meter Tile.
- To add metrics to the chart, click  > Settings. The metric expressions definition panel opens. See Building Metric Expressions.
Note: The results of the parameters selected are immediately displayed in the chart.
 Click Save, the chart is automatically saved to the Dashboard.
 CHANGING THE DASHBOARD TILE DISPLAY
Legend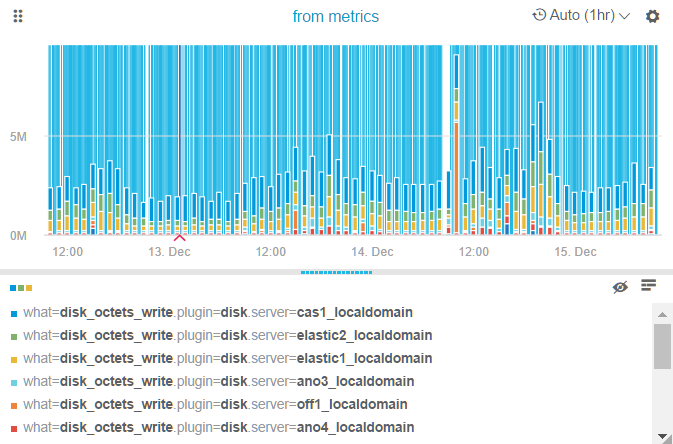 To show/hide the metrics legend, click

. The legend is interactive.
 The options are:
 Show All / Hide All: Use the  and  icons to show or hide all metrics
 To show/hide specific metrics, select the metric in the legend
 Indicates that there is no data 
 Table / Wrapped view: Use the / icons to toggle between table and wrapped view of the metrics in the legend
 To resize the chart to display more or less of the metrics, slide the legend slider up or down.
Time scale [Optional]
 To define a different time scale for the tile metrics than the system-calculated Auto scale, select a time scale in the Auto

 drop-down menu.
 Time scale is the minimum time interval between two data samples:
- Auto - Anodot automatically chooses time scale based on requested Time Range
- 1 Minute intervals
- 5 Minutes intervals
- 1 Hour intervals
- 1 Day intervals
 Changes to the Dashboard are automatically saved.
General:
 To change the chart display settings, see Customizing a Chart.
 To move a tile, hover over the move icon to display a cross  - drag the tile to a new location.
 To re-size a tile, hover over the lower right corner to display a grey triangle, drag it to re-size the tile.
 TO DUPLICATE A TILE
Click

> Duplicate.
Note: When a tile with an alert is duplicated, the alert is not duplicated.
 TO EXPORT METRICS AND DATA
 Click

> Export to CSV.
Note: The csv fields are: Local time, Metric1 value, Metric2 value...MetricN value [N = the number of metrics displayed in the chart].
 TO DELETE A TILE
 Click

> Delete. 
A  warning dialog box is displayed:


Click Delete if you are sure you want to delete.
Note: When a tile or a Dashboard containing tiles with alerts is deleted, the alert(s) are detached, not deleted. Alerts are retained in Anodot and will be triggered if and when they affect other metrics.