Recommendations are shown in the Alert Console for any Alert that the system feels can be tweaked for improved efficiency. Recommendations can also be viewed and applied in the Alert Management screen, and managed in the Management section.
This section includes:
Viewing and applying Recommendations
To view and apply Recommendations:
In the row of the relevant Alert, hover over the icon to expand the Recommendations icon which expands to include the word Recommendations, as shown below.




Click the Recommendations icon.

From the Alert Console, or the Alert Management screens, the Alert is opened in Edit mode. Click the recommendation icon to display them:



Note: In the Alert Management screen you can also use the filters to locate Alerts with Recommendations, as shown below.




Browse the list of Recommendations and select to Apply or Ignore each Recommendation, as required. You can also choose to apply or ignore all Recommendations by clicking the More info icon and selecting Apply All / Ignore All.




Click Update to save your changes to the Alert.
Where will I see Recommendations?
While applying the recommendations in the alert, you can view applied recommendations in the relevant fields to which they were applied with the Recommendations icon shown alongside the field.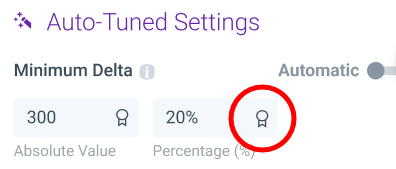 Recommendations to tune the alert can also be seen in email notifications, with a link included in the email that redirects to the relevant Alert, as shown below.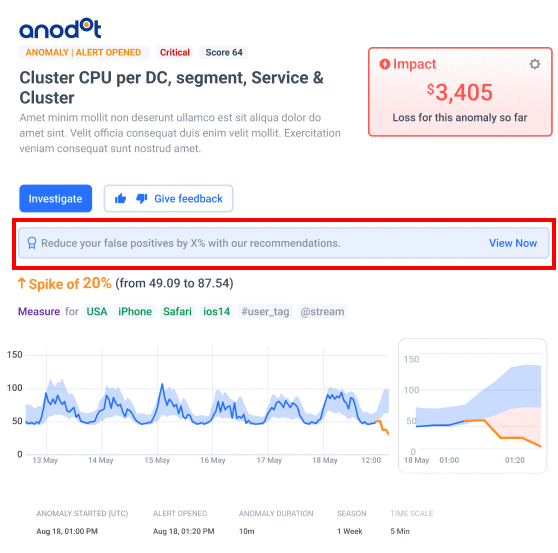 Managing your Recommendations
Recommendations can be viewed and updated from the Recommendations management screen. This screen lists all Alerts that include Recommendations, and shows at-a-glance how many of the suggested Recommendations have already been applied.
To manage your Recommendations:
From the Navigation Panel, click

Management > Recommendations. The list of Alerts that include Recommendations is displayed.
Click on the relevant Alert to expand its details, as shown below. If any previous Recommendations were suggested they are listed under the Alert, with the relevant action taken (Applied/Ignored).





Note: You can also navigate to the Edit screen of the Alert by clicking next to the Alert name.



If you want to apply or ignore any of the suggested Recommendations shown, click

Apply / Ignore. Note that when clicking

Apply

you are redirected to the Edit screen of the Alert with the Recommendation applied. Remember to click

Update

to save your changes to the Alert.