System notifications are generated when a failure of some sort is detected by Anodot.
For example, if there are connection issues or the stream has stopped reporting metrics, messages similar to those displayed below are generated. Similarly, system notification messages are generated when you have exceeded your account metric limits.
What should I do next?
These system notifications indicate that the relevant stream is currently in an error state and not collecting data correctly.
As a result, you need to resolve the indicated issue and then resume the stream (by clicking the stream's More Options button, and then selecting Resume). You can investigate the issue by clicking on the relevant data stream row displayed in the Data Management screen, and then clicking the Collection Log tab in the stream summary window.
Note that you can also click Data Management in the notification message and directly access the relevant data stream or data source.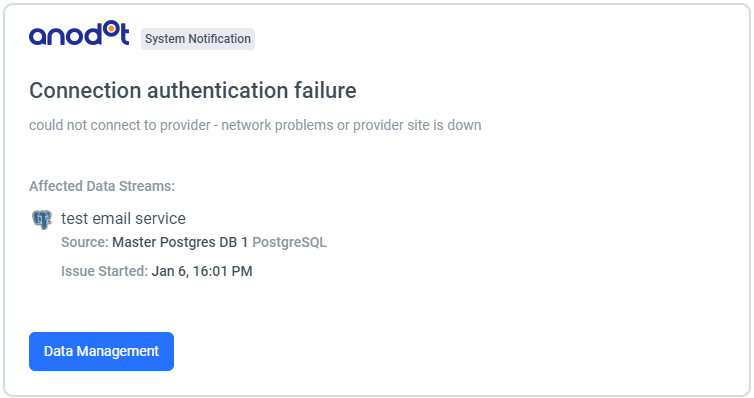 In the following message, you are informed about a stream that has been automatically stopped by Anodot. The stream was transitioned to the "FAILED' state, because it was not producing any data for a defined period of time. The inactive stream can be resumed, but if it doesn't collect data within 3 days it will be deactivated again. This period of inactivity is defined, as described in Facts & Figures.