A metric is a unique combination of dimension and measure values.
When integrating Anodot you define the dimensions and measures you want to send to Anodot. The unique set of values for these combinations is the number of metrics you will be sending to Anodot.
For example: an eCommerce customer can send a number of purchases and revenues as measures, and Product, State and Device OS as dimensions. The unique set of combinations between these dimensions will become the metric count.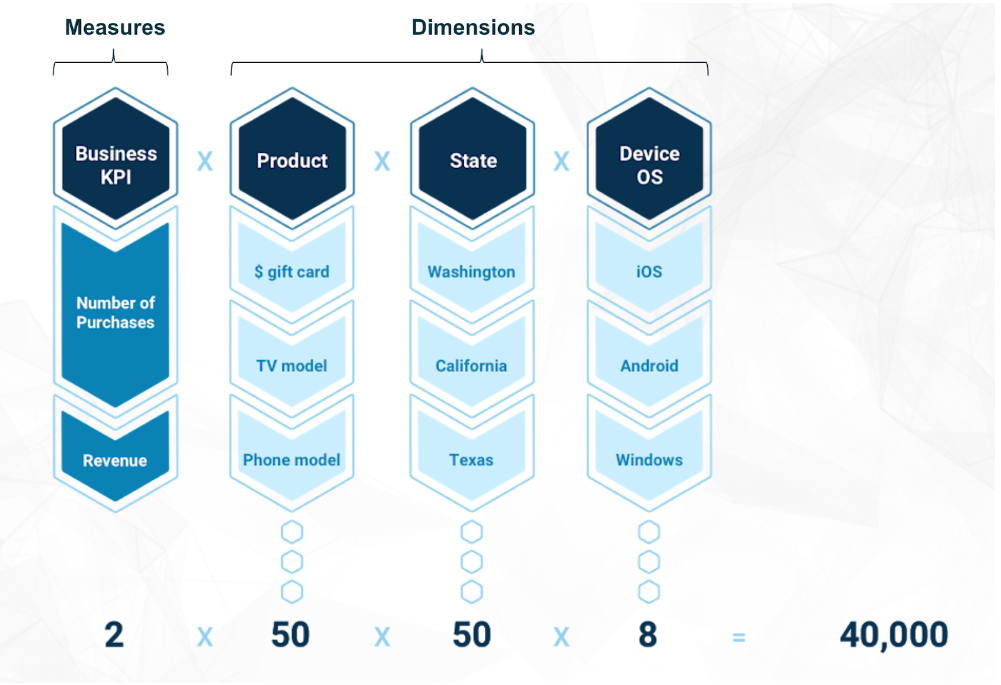 This section describes the Metric Explorer, the main screen in which you work with metrics.
The Metric Explorer
The Metric Explorer is accessed from the Navigation Panel, and includes the following components:
Expression Builder
The Expression Builder - or expression tree - is a tool which enables you to build an expression. The expressions you build can include a combination of measures and dimensions you would like to explore and monitor in Anodot.

Use the Expression Builder to:
Apply analytics – add functions to

metric expressions

to create valuable metric analytics [Optional]
Visualize the resultant time series in the chart area
Add more expressions
Metric expressions can be used in:
Display Panel
This panel displays the graphs of the metrics that are defined in the active metric expression in the Expression Builder.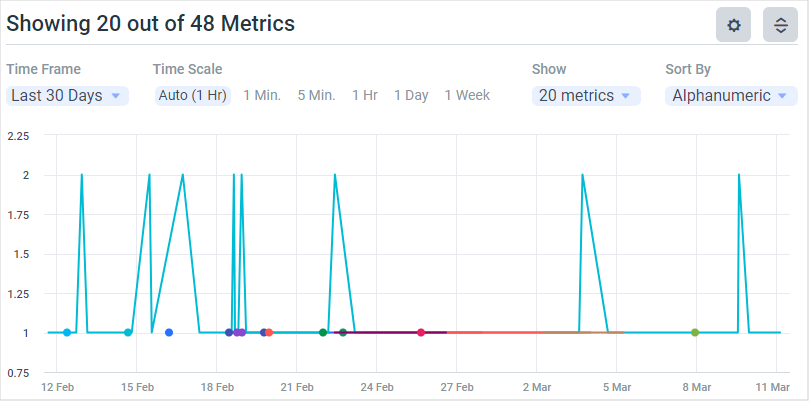 In the display you can:
Change the

Time Frame,

Time Scale
Zoom in

on metric details
Refresh the chart periodically or on-demand
Sort the displayed data according to one of the following:

A

lphanumeric/ Highest Average/Highest Current/Highest Max/Lowest Average/Lowest Current/Lowest Min/Most Deviant
In the lower right corner of the screen, you can also save the expression:

As a Composite Metric; the expression must contain a function (see

Composite Metrics)
To a dashboard
To create an Alert
Click

to display metrics either in Collapsed view to display one chart containing all the metrics, or Expanded view to display one metric per chart. Note that you can also customize the chart, spline and axis type, as described in Customizing Charts.
Collapsed view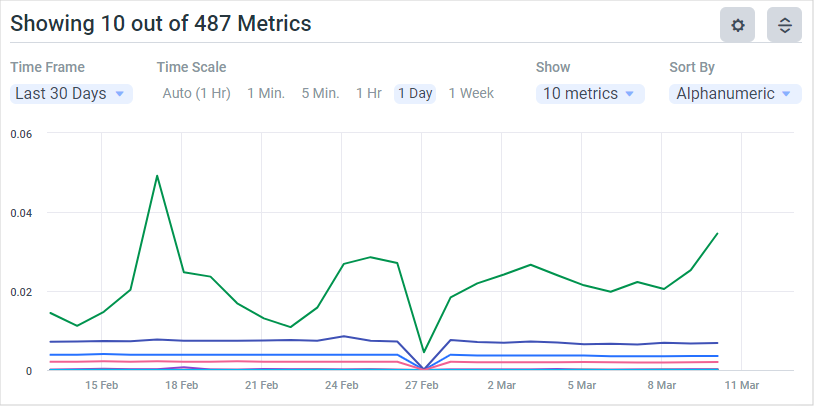 Metrics Legend
The details of up to 50 metrics can be displayed in the legend. Select the number of metrics you want to display from the Show menu in the Expression Builder. The listed metrics are also color-coded; click on a metric to toggle on/off the displayed line in the Display Panel.

See Also: