Alerts are the most important part of Anodot. While Anodot identifies all the anomalies in the data streams you've defined, we only send you alerts in real-time for the important anomalies that really matter to your business.
There are three main types of alerts: Anomaly (the core alerts you'll define and work with in the Anodot platform), Static, or No data. Note that Static and No data alerts are not based on anomalies - click here to learn more about them.
There are three main steps to creating alerts:
By default, as in the steps detailed below, Anomaly type alerts will be created.
1. Selecting or creating the metrics to monitor
Selecting or creating the metrics you want to monitor is basically down to a combination of the KPIs (or measures) and dimensions that are of primary interest to your business. Note that the measures are automatically pulled from the data streams that send data to the Anodot platform, as explained in Getting Data into Anodot.
In the Alert Console, click + New Alert and select a measure, such as the number of purchases or revenue.
Secondly [optional], select up to three dimensions, such as Product, State and Device OS.



The measures and dimensions you select will be sent to Anodot as a unique set of metric values.
2. Configuring the alert
Once you have selected the measures and dimensions, the next step is to define the conditions in which the alert is triggered and notifications sent.
Choose if you want the alert to be triggered when there are spikes, drops or both spikes and drops in the selected measure.

Set how often you want to receive the alert.

3. Defining who to send the alerts to
After you have defined the metrics and configured the trigger settings, the final step in defining your new alert is to select the interested parties who need to know about the alert. This is done through what we call channels. For example, you can choose to send alerts via an email channel (as shown in the example below). For more information, see Getting Alert notifications.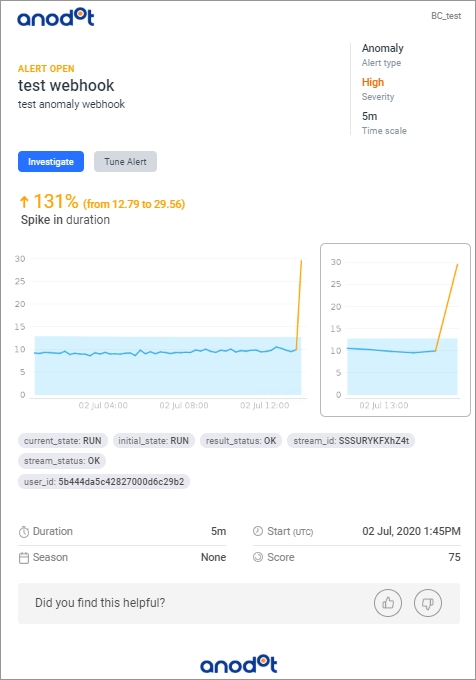 For further details (including advanced options) on how to create alerts, see Creating New Alerts.