OVERVIEW
The Anodot Kinesis Data Collector currently supports reading JSON records from AWS Kinesis Streams.
TO CREATE A KINESIS DATA SOURCE
On the Streams page, click  Sources+.
In Sources Types, click START on the Kinesis tile. The Kinesis dialog box is displayed.





From the drop-down menu select the Kinesis stream region.

Enter the Stream name you created in your Kinesis account.
CREATE A ROLE
1. In your AWS console, create a new role called "anodot-kinesis-reader"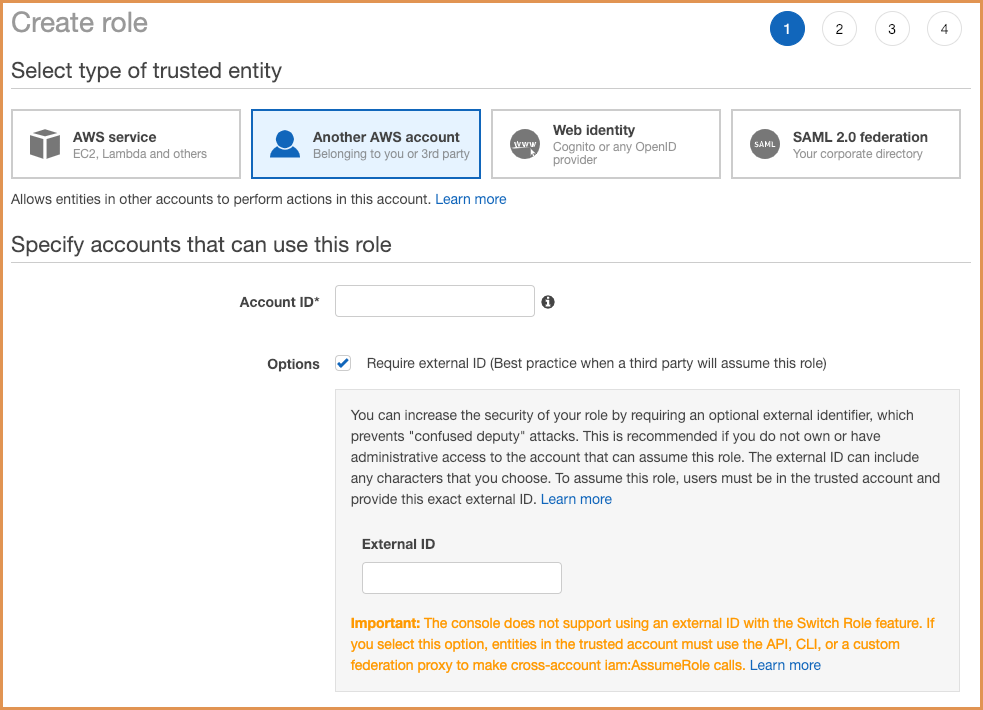 2. Copy the External ID generated by Anodot to the role's trust policy.
3. "anodot-kinesis-reader" Role's Trust policy:
{
 "Version": "2012-10-17",
 "Statement": [
 {
 "Effect": "Allow",
 "Principal": {
 "AWS": "arn:aws:iam::340481513670:root"
 },
 "Action": "sts:AssumeRole",
 "Condition": {
 "StringEquals": {
 "sts:ExternalId": "<REPLACE_WITH_EXTERNAL_ID_FROM_ANODOT>"
 }
 }
 }
 ]
}
4."anodot-kinesis-reader" Role's permission policy:
{
 "Version": "2012-10-17",
 "Statement": [
 {
 "Sid": "VisualEditor0",
 "Effect": "Allow",
 "Action": [
 "kinesis:ListStreams",
 "kinesis:ListShards",
 "kinesis:GetShardIterator",
 "kinesis:GetRecords",
 "kinesis:DescribeStream",
 ],
 "Resource": "*"
 }
 ]
}
5. Copy the "anodot-kinesis-reader" Role's ARN from the AWS console to the Role ARN field in the new Kinesis source modal:
arn:aws:iam::<YOUR_ACCOUNT_ID>:role/anodot-kinesis-reader
6. When you have completed creating the Anodot Data Source, click continue and define the Stream Query
TO CREATE A KINESIS DATA STREAM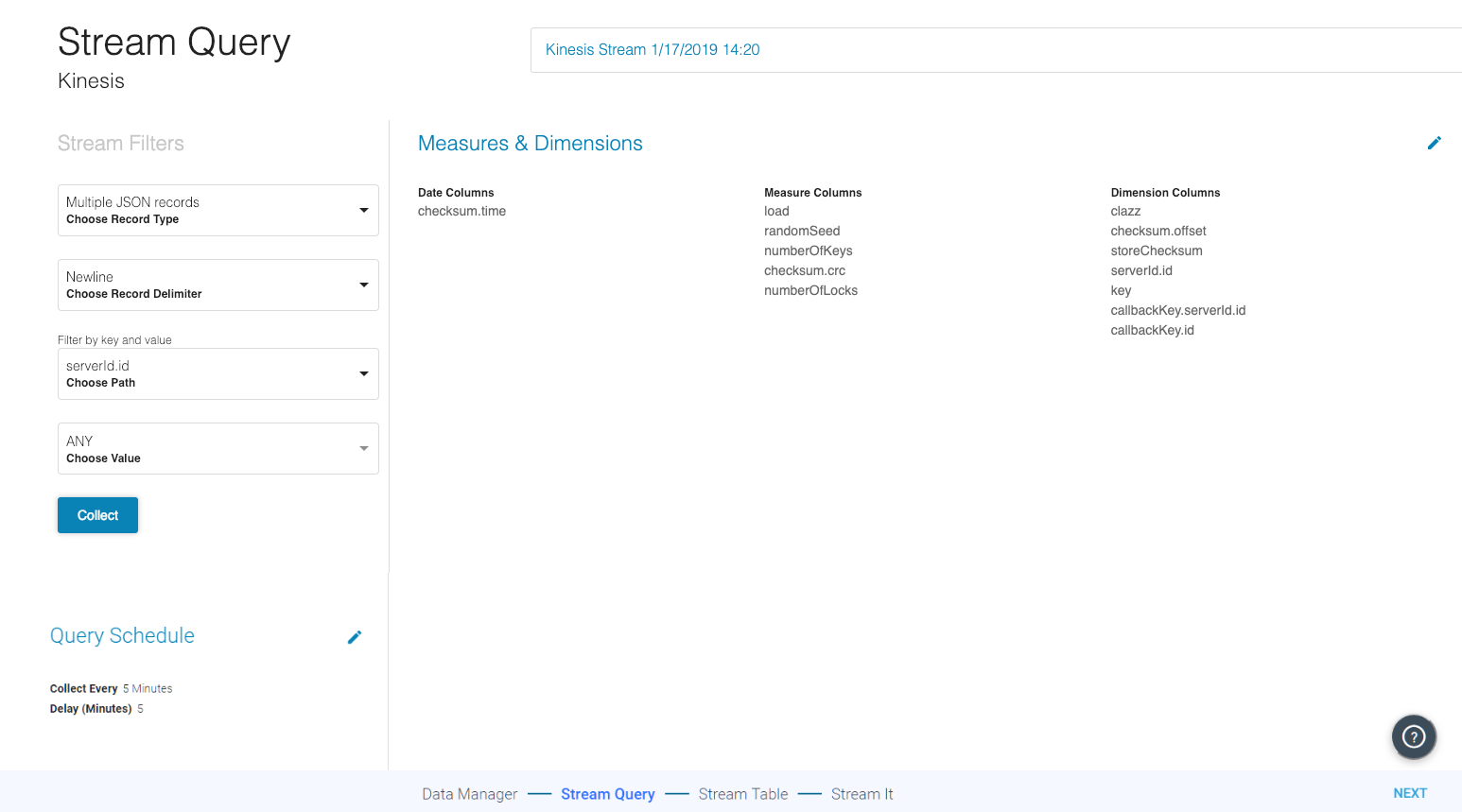 Set the Stream Name or use the default.
Set the Stream Filter.
  i.   Choose Record Type: either a single JSON record or multiple JSON records.
  ii.  If you use multiple JSON records, choose a Record Delimiter. 
  iii. Filter by key and value. Choose the :
        - filtering JSON path
        - filtering value, or choose ANY [Optional]
Set the Query Schedule
i. Set the query interval, available interval are 1 minute up to 1 hour.
ii. Set the delay to enable sufficient data record readiness on the stream.
Select timestamp, measures and dimensions.
After you click collect, choose:
The JSON path representing the timestamp to use
The JSON path(s) representing measure(s)
The JSON path(s) representing dimension(s)