In the following column chart, all campaign metrics for 301 are grouped by publisher per time sample.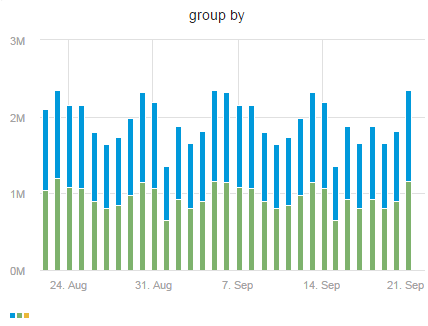 How to use the groupBy function:
In the Metrics tab, place the cursor in the blank function node.
Start typing Publishers and select Publishers in the Properties drop-down list.
In the Values drop-down list, select All (*).
Click  at the right of the expression. The  function node appears above.
Place the cursor in  expression node box.
Type groupBy or select groupBy in the drop-down list. A mandatory Aggregation parameter box opens. Options are: Avg, Sum, Median, Std, Max, Min.
In the drop-down list, select Avg.
In the Group By parameter box, select Publishers.

The expression tree now contains the following nodes:


Click Save. See Saving Metric Expressions
How to create a column chart:
In the Expression Builder toolbar, select .
In the Display as section, select Column.
In the Stacking section, select Normal.
Click Done.